If you are looking for a place to sleep for a weekend (or summercamp) in Amsterdam, you can rent our club house.
Accommodation
There is a toilet and shower, a kitchen, (big) play room and two smaller rooms. You can see it on the map.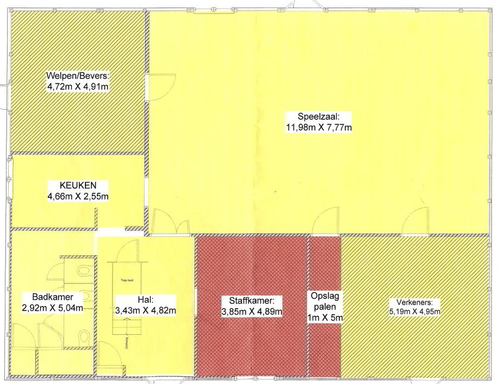 The kitchen is equipped with a 5 pits stove, refrigerator (with freezer), microwave, forks, knives, spoons, pans, cleaning materials, first aid and a large place for the groceries, for 40 persons. There is one shower, a large washbasin and 3 toilets.
In the (big) playroom are lines adapted, what is good fore playing games. And there is a big screen for a beamer, nice fore watching films.
There are supermarkets nearby on the Osdorpplein and Sierplein. The Osdorpplein is also fun to shop (walking distance about 15 min.).
Rent
Rent for scoutinggroups is € 3,50 p.p.p.n. plus € 12,50 for electricity, gas and water. Rent for non scoutinggroups is € 6,50 p.p.p.n. plus € 12,50 for electricity, gas en water.
Surety is € 300,00.
If you are interested you can file this form in.